OVERVIEW
Bad SEO Penalty Removal
When you suddenly experience a drastic drop in your google organic search ranking, it is usually a direct result of a penalization and it could be for the use of illegal SEO measures. Whether you have unintentionally violated Google's Guiding principles or knowingly applied Black Hat SEO strategies, your site is going to be knocked down the rankings or maybe totally taken down from the search placements.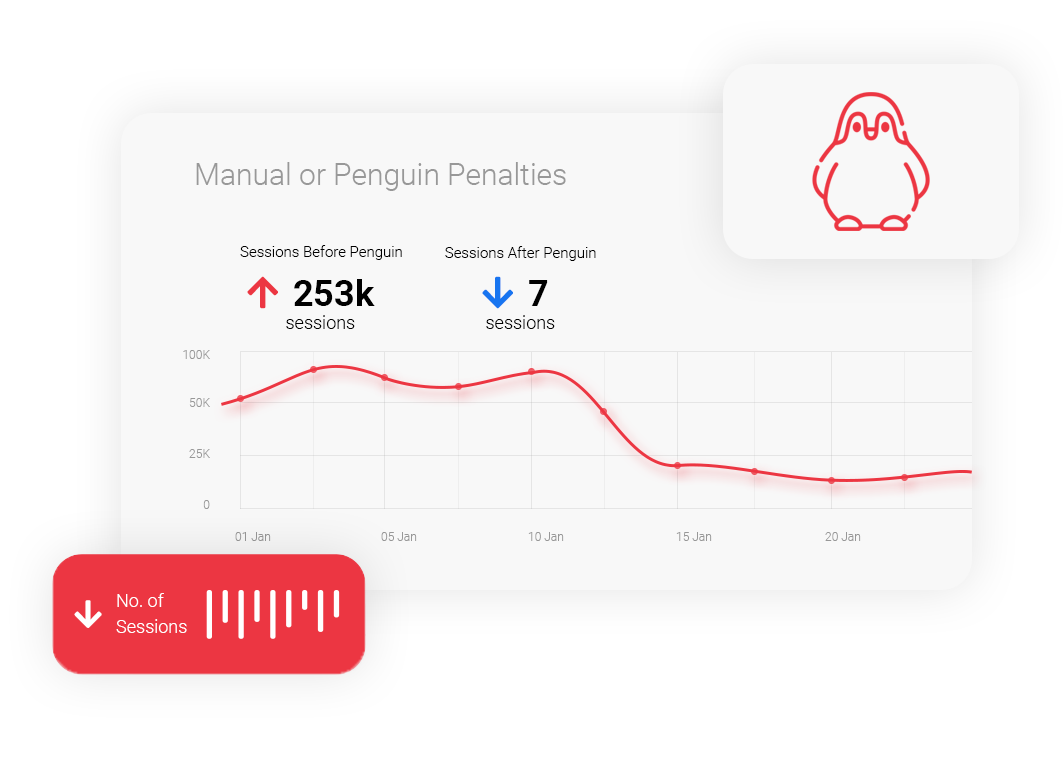 SERVICES
Manual or Penguin Penalties
A manual penalty, also known as Penguin, happens when an employee of Google spam team finds out you have used prohibited SEO black hat strategy or unethical SEO techniques. Some black hat SEO practices are not entirely illegal, but they risk serious Google clamp down. Some of the SEO actions that can lead to Penguin penalties include malware attack, spam mark-up, cloaking, unnatural links, unnatural content, keywords stuffing, hacking and a host of other violations.
SERVICES
Algorithmic or Panda Penalties
A Panda penalty is an organic ranking drop prompted by the ever-changing Google's algorithmic updates. It is usually harder to ascertain a Panda because of it's automated nature. The algorithm of Google gets hundreds of updates every year. These updates will definitely trigger alterations in your website's SEO structure and you can be penalized if you fail to adapt to the latest webmaster SEO guidelines.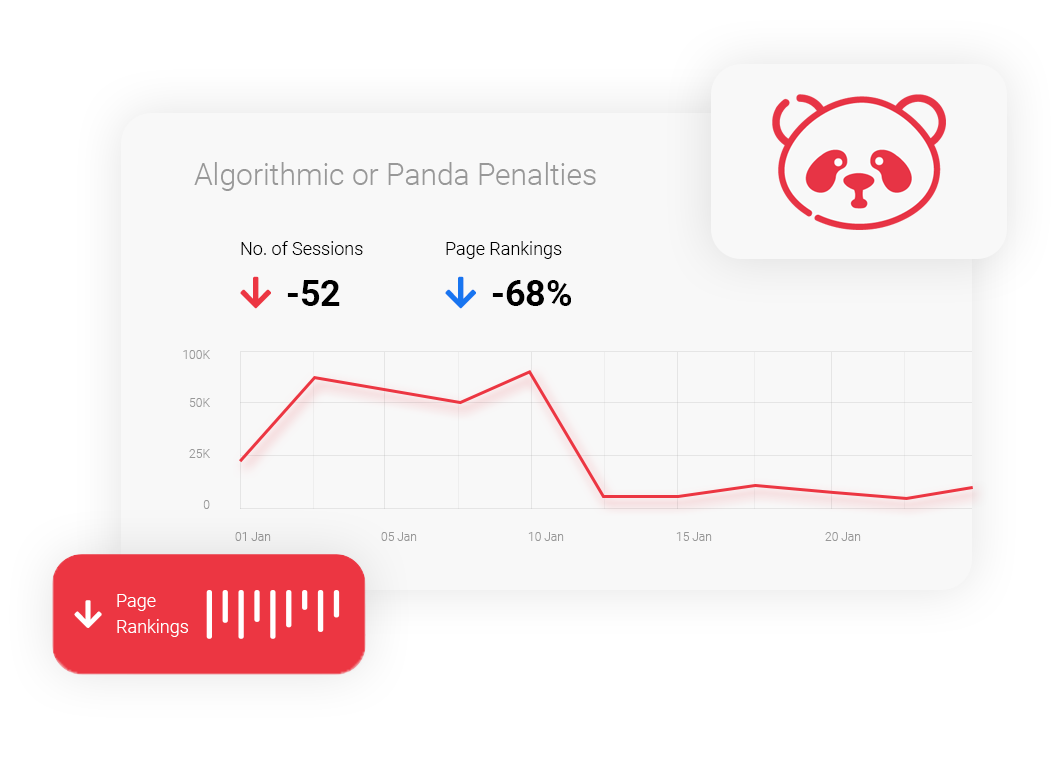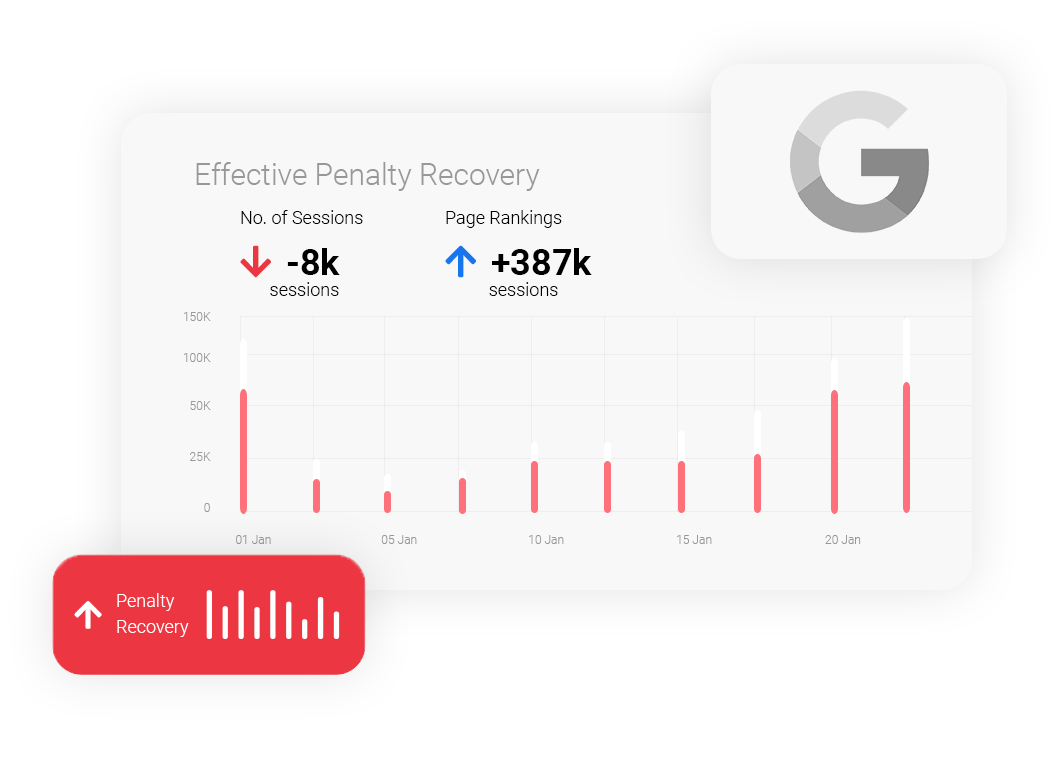 SERVICES
Effective Penalty Recovery
Being hit with a Google penalty is hard especially if you are a small business but it doesn't end there, you can still get your website back up and rebuild your ranking. We can help you recover your retail website's organic ranking and revenues. By implementing the right cleanup strategy, our specialist recovery team can restore your website to its former Google search placement and reclaim your organic traffic.
OVERVIEW
Our Google Penalty Removal Process
Being content induced, Panda penalties are easier to fix. Failure to comply with the latest updates of Webmaster, inferior backlinks and keywords stuffing can all be easily fixed with dedication and hard work.
However, Penguin penalties are more serious and they are the hardest to recover from because a direct action is taken against you by a Google employee if you fail to comply with their written guidelines.
The first step our specialists take to recover your ranking is to review your website, identify the breach and take positive steps to ensure you stop committing the particular violation. We will delete every spam mark-up, eliminate unnatural links, get rid of hidden content and submit a request for reconsideration.
Long-Term Digital Marketing And SEO Solutions
Beyond bringing in traffic from search, our targeted SEO strategies work to drive the warmest leads to a website, double conversion and maximize brand exposure. At Bad SEO, our goal is to get businesses rank where they belong and provide long term digital success.
Questions?
FAQ
There could be a lot of different reasons for your SEO reputation to go awry. We guarantee optimal and ethical search engine services that will pave the road for you to increase your search visibility and get sustainable search reputation.
We DON'T guarantee INSTANT RESULTS but it is our promise is to give clients ethical search engine optimization services which lead to higher search visibility and sustainable search reputation. Always stay away from SEO freelancers or agencies who "guarantee" instant results. There is no such thing as tricking the search to put a website first before everyone else. SEO is rather a crucial but rewarding processes for anyone who wants to expand their digital presence. We hold our integrity to use only white hat methods for our strategies.
Give us the first 5 months to work with a website and after that, a client will begin to see sustainable and targeted results. In our usual cases, the first month is spent analyzing a website's reputation on search and its digital presence. During this time frame, we also build effective strategies that are to be implemented on the next months. The first month is important to our strategy building so we don't risk our client's digital reputation by having any trial and errors. The next months are then spent on nurturing an ethical SEO strategy specific to the client's business.
Because we know what we are doing. Want proof? Check out our recent case study.
We use proven and tested proprietary software and tools to optimize our client's websites. With these tools, combined with our knowledge in search and marketing and with the help of our creative team, we can ensure that we deliver outstanding results.